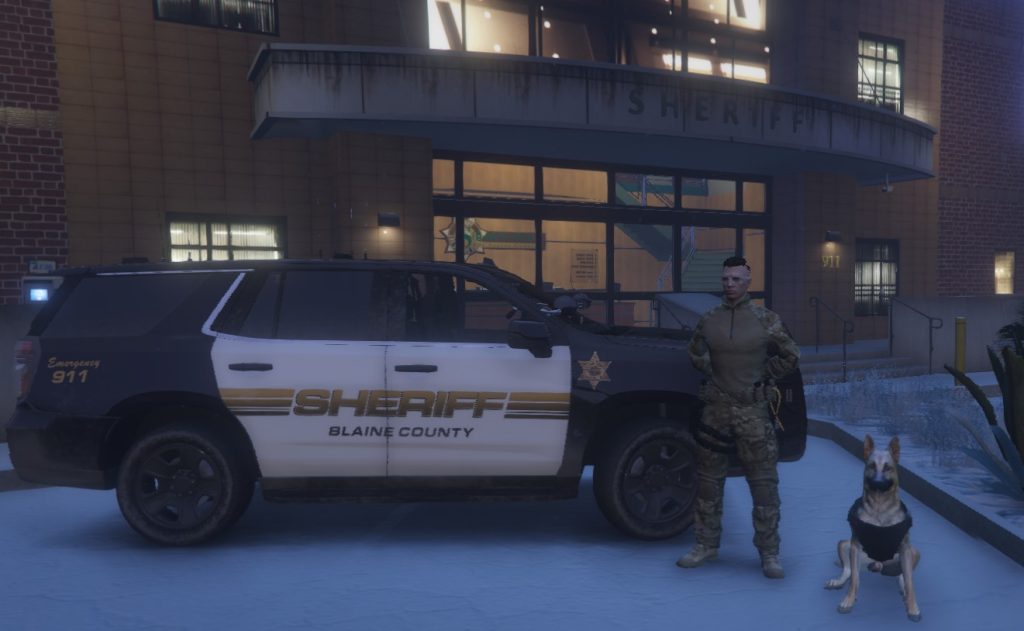 Blaine County, 11/20/2023
In an exciting development for the Blaine County Sheriff's Office, a formidable addition to its Tactical Operations Unit was unveiled today as K9 Loona and her handler, Sergeant Jayson Wolf, officially joined the force. This new K9 team will be working alongside the esteemed K9 Axel and his handler, Jack Farson, as well as K9 Rex and his handler, CiGaming, forming a trio of highly skilled and specialized canine units.
K9 Loona, a Belgian Malinois with a keen sense of smell and exceptional agility, has undergone rigorous training to become an Explosive Ordnance Disposal (EOD) and Tactical Operations specialist. This dynamic duo is ready to tackle a range of challenging situations, from explosive detection to high-stakes tactical operations.
Sergeant Jayson Wolf, an experienced and dedicated law enforcement officer, has undergone specialized training to ensure seamless coordination with K9 Loona. Together, they bring a unique set of skills to the Blaine County Sheriff's Office, enhancing the department's ability to respond effectively to various critical incidents.
The partnership of K9 Axel and Jack Farson, as well as K9 Rex and CiGaming, has already proven invaluable in numerous operations, including tracking suspects, locating evidence, and ensuring the safety of officers and the community. Now, with the addition of K9 Loona and Sergeant Jayson Wolf, the Tactical Ops team is even more well-equipped to handle the diverse challenges that law enforcement faces on a daily basis.
Sheriff Jack Farson, expressing enthusiasm about the expansion of the K9 unit, stated, "The introduction of K9 Loona and Sergeant Jayson Wolf is a significant step forward in our commitment to enhancing public safety. These highly trained teams contribute not only to our capabilities in detecting explosives but also in executing precision tactical operations. We are proud to welcome them to our dedicated group of law enforcement professionals."
The Blaine County Sheriff's Office invites the community to meet K9 Loona, Sergeant Jayson Wolf, K9 Axel, Jack Farson, K9 Rex, and CiGaming at upcoming community events where they will be showcased, fostering positive interactions between law enforcement and the public.
This new trio of K9 teams reflects the Blaine County Sheriff's Office's ongoing dedication to innovation and excellence in law enforcement, ensuring the safety and well-being of the community they proudly serve.
About The Author